The Wait is Over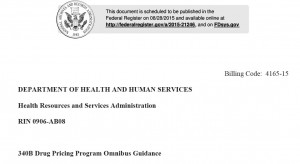 340B Mega Guidance: Well played by the government. We had some news about delays and later than September, and BOOM, 340B Omnibus Guidance is published in August (love it). First, if you did not already see it or know it came out, the 340B Mega Guidance is out for comment and you can read the 90 page document here: https://www.federalregister.gov/articles/2015/08/28/2015-21246/340b-drug-pricing-program-omnibus-guidance. My preference is to click on the pdf link to the right on the page and get the pdf. If this link stops working and you want the pdf, contact us and we will send you the copy.

We are currently digesting all of the document and determining impact to covered entities based on our experience with HRSA 340B audits and our own external audits we have conducted. Our plan is to get a more detailed analysis out early next week for your reading pleasure. My initial read through highlighted the following critical changes/clarifications:
– Patient Definition and the providers and location is much stronger, tight contract pharmacy filtering is needed.
– Inpatient hospital discharge prescriptions may not count (this will likely have some significant comments).
– Morford Letter language regarding follow-up care is officially dead.
– Infusion Services orders written externally (i.e., non-qualified area) are likely an issue.
– Non-covered outpatient drug language may require a re-look at purchasing of products and how they are billed and reimbursed.
– Responsibility for care is "medical" and not financial, so anyone doing the employee is a patient approach for 340B needs to really consider if they meet the new enhanced patient definition.
– MCO Medicaid officially mentioned as part of Duplicate Discount.
– One other article already written mentioned contract pharmacy entirely could be an issue, but I did not read it that way. We will follow-up on this.

More to come as we analyze it!
---
340B Conference Notes:

Wow, I feel like a slacker for taking so long on these. It has been on my to do list, but client work had to come first (did I mention I am almost a diamond for frequent flyer status for the year, and I don't always fly that airline). So, this is not a detailed analysis of every session, rather the key points and learning I gleaned that I feel are important for covered entities.

HRSA Audit numbers: as of the conference, 135 audits conducted FY2015, on track for the 200 audit goal (I'll say so, our team has been on site for 6 this year). Since 2012, this makes 363 audits by HRSA. This includes over 4000 child sites and over 9000 contract pharmacies. Once again, complexity (many child sites) and many contract pharmacies increase your risk of an audit.

Track & Trace: HRSA has had regular meetings with FDA. No resolution at conference time on how Track & Trace and contract pharmacy will sit with the FDA. It is currently not an exemption. My colleague wrote an article based on Gregg Dodgett, 340B Health, and Jason Atlas, Apexus, presentation at the conference. You can find it here: http://drugtrackiq.com/2015/07/20/340b-coalition-annual-conference/. Bottom line is you should plan on having a mechanism to get the right Track & Trace documents to your contract pharmacy(ies). We partnered with Drug Track IQ to make sure we had a solution available for our clients. Check it out if you are still not sure what to do (there is a free white paper on what you need to do). The FDA enforcement of dispensers starts on November 1st, 2015.

Apexus 340B by the numbers: I really like Chris Hatwig's myth buster numbers. Regarding the exponential growth of covered entities in the recent years, he said that it is due the child site enrollment and that the actual number of DSH hospitals have actually decreased. In fact, I believe the specificity of what to enroll as a child site that HRSA has expected has more to do with the increase than anything else. If you remember, some sites with child site hospitals would just enroll the hospital as a child site. Today, you enroll every single department, service line, cost center on your cost report that is visible if it has a different physical address compared to the parent entity (if it administers 340B drugs or writes prescriptions that are captured as 340B). So each child site hospital now has numerous separate child listings. Definitely could be the cause for the apparent increase in registrations.

Another myth:Total 340B spend – We know that a lot is made about the growth in the 340B program, however, it is still only 1.5 to 3% of total purchases. So, it may seem like huge growth, but percentage wise as compared to the total drug spend, it is still a small fraction of drug purchases.

To not go too long on this post (sorry, you might be thinking it is too late for that), other hot topic areas covered are manufacturer pay back, self reporting, and auditable records. We will cover in a future post. Next will be our concerns with the Mega Guidance. Stay compliant my friends! -Rob Nahoopii