Is that an Elephant in the Room?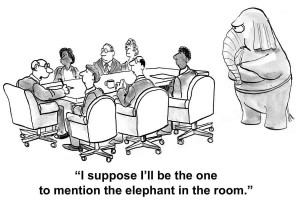 Hi All! Yes, it has been awhile (we have been auditing, a lot!). Our sincere apologies, we need to bring back our 340B Blog A game. The team at Turnkey Pharmacy Solutions has been growing and the leadership team is learning how to handle the growth and work effectively with our team. In addition to Roxanne, we now have Jen and Annie supporting audits with our core team (and a few per diem staff as additional support). We also added an operations manager to oversee operational functions of the organization (so excited for Chelsea to start on April 4th!) We are not the only ones with change, the 340B program has had significant changes recently, and we are going to share two big ones! Hold on to your hats . . .
Inpatient Discharge Prescriptions: A big shift for HRSA has been a March 5th, 2016 decision (unannounced, but confirmed by multiple HRSA 340B audited sites) that discharge prescriptions for "inpatients" will not qualify for 340B. We believe the primary reason being used is that the inpatient location is not a qualified location (i.e., not in the outpatient reimbursable area of the cost report). This is a tough one for the 340B hospitals, it is common for patients who cannot afford their medications to receive it via a charity care process at discharge. Based on HRSA's current interpretation, you cannot use 340B purchased drugs if the patient had a patient status of inpatient at discharge. There are defensible positions that could be used, and we recommend reaching out to your legal team and/or 340B consulting group for guidance to review your specific situation. If you are part of 340B Health, a technical assistance call may also be beneficial. The elephant in the room is if this could be viewed as an attempt to move forward with 340B Omnibus Guidance (since this was in the Omnibus Guidance) before final publication in the Federal Register. Things that make you go . . . Hmmmmmmmm!
Track & Trace – Contract Pharmacy: Well, March 1st has come and gone. DSCSA (Track and Trace) for dispensers (pharmacies) is now in effect. The FDA can now audit pharmacies for compliance, and I for one am very concerned about contract pharmacy and DSCSA compliance. It was timely, 340B Health has a bulletin that went out today that confirms that the FDA is not going to exempt the contract pharmacy relationship. So what does this mean? Well, the FDA considers the entity that purchases the drug as the owner. In a contract pharmacy arrangement, the covered entity buys the drug, but ships it directly to the contract pharmacy from the wholesaler. This is not addressed in the DSCSA specifically, and therefore those "3Ts" (transaction information, transaction statement, and transaction history) should exist between the covered entity and the contract pharmacy. Currently, the most common approach is to sign some documents that allow the wholesaler to provide the covered entity's 3Ts in a view rights format to the contract pharmacy. This is better than nothing, but the problem is that the contract pharmacy is receiving drug for which they have no 3Ts with their name on it. It will only have the covered entities name on it. How will this look if the FDA audits your contract pharmacy? Are you at risk of having your contract pharmacy program halted because your contract pharmacy cannot receive drug from you? A process that can provide the 3Ts to the contract pharmacy such that the contract pharmacy is listed on the 3Ts and the DSCSA criteria are met is critical. This may be a huge issue as we move forward, and have partnered with Drug Track IQ to create a solution to help protect your contract pharmacy process. If you are concerned and want to learn more, go to Drug Track IQ and see how their program can help you meet the DSCSA requirements.
We know those are two large items to chew on. There is so much more I want to share based on the 130 plus audits we have conducted and 13 HRSA audits we have attended, and will commit to writing more articles soon. If you have any questions or comments, please use our contact email and one of our team members will respond. Thank you and Aloha, -Rob