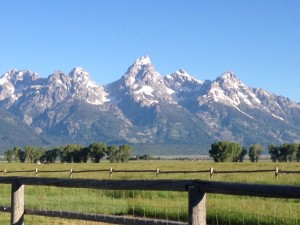 I am sitting just outside of my Cabin at the base of the Teton Mountain range on the Wyoming/Idaho border (I just took the picture to the left from my porch). It is my time for recharging and evaluating goals. I am also reading "A Higher Standard of Leadership" by Keshavan Nair, and am finding some universal truths that apply to our 340B Program. I will share some of these thoughts and of course discuss the 340B Program in the following article.

As for the Turnkey Pharmacy Solutions team, we have been crazy busy supporting existing clients and completing at least one audit a week for the past five weeks. We were able to visit some great covered entity sites that are truly engaged, and who are endeavoring to have a compliant 340B Program. We are also preparing for the DC 340B Coalition Conference next week, where we have a booth and Rich Bucher, from our team, is speaking at the conference. Stop by and say hello if you are there.

340B Updates: We are still waiting to see the ultimate outcome of the Orphan Drug clarification as we have not seen all pricing return to CAH wholesaler accounts since the OPA clarification a few weeks ago. Mega-Reg (Mega-Clarification) is still in the air and maybe we will learn something at the conference. It was during last year's conference (or near it anyway) that the non-covered outpatient drug clarification around bundled drugs was brought to light, and we are hopeful more clarifications will come soon. The one thing we know for certain is that recertification is coming for hospitals in August, AOs should get notice around August 1st and have August 6th through September 10th to complete the recertification. If you are in Washington, an update came from one of the Washington state hospital organizations that stated July 15th is the deadline, but that is the deadline for this quarter's enrollments and not recertification.

So, what is the universal truth that the beautiful Teton Range and my current reading inspired? A Single Standard of Conduct through living absolute values. By absolute values, I mean things like truth, honesty, and integrity. These are values that can bring order to chaos (the 340B Program can feel chaotic at times). If we espouse to have a compliant 340B Program or to help clients have a 340B Program, or if we are a manufacturer and simply want our customers to have a compliant 340B Program, then the heart of the matter (from my perspective and experience working with covered entities) is to find a way back to your absolute values.

Using truth, honesty, and integrity as core absolute values with the 340B Program, we will appropriately resource compliance activities and make the time to ensure we are doing things right. We will apply the current patient definition in a manner that we can honestly say and feel we are compliant and not stretching the rules to meet our needs (is what we are doing pass the sniff test?). We will develop processes that safe guard against diversion and duplicate discount. As vendors we will support our clients and help them with their compliance activities. As manufacturers we will work with covered entities for appropriate use of the 340B Program, and as consultants we will provide honest and accurate information to help our clients make the best decisions possible.

"We must be on guard against ideology, tradition, and organizational goals masquerading as absolute values. These Pseudo-absolute values include . . . capitalism, free markets, and organizational survival. When we turn these into absolute values, we may sacrifice what is fundamental at the altar for what is expedient." – Nair

I think Nair makes a great point about how easy it is to substitute our company's goals or values for an absolute value. If I may I ask, take a look at how your company is currently managing your 340B Program or dealing with covered entities and determine if you are living by absolute or pseudo-absolute values. If it is the later, it is time for a change. The program is too important in the current healthcare landscape, we still have numerous patients without insurance that need non-profits and government institutions to cover their needs. I have also seen underinsured go from poor medication compliance due to cost to improved compliance with chronic medical conditions directly due to the 340B Program (e.g., diabetes, COPD). The 340B Program has been critical for many organizations to continue to provide the level of needed care, or in some cases to simply keep the doors open. I have seen this first hand and believe this to be true, but it gives us no excuse to not manage the 340B Program in a compliant manner. We must strive for the higher standard based on our absolute values in order to consistently do the right thing not only for covered entity organizations, but for our patients.