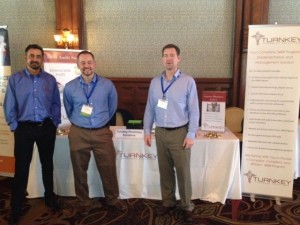 Before we get to the highlights, I need to address one thing we always strongly recommend to covered entities we partner with.

For key leadership staff, you should attend a 340B Coalition meeting OR 340B University meeting annually.

I even recommend one of each if you can swing it. The two meetings cover 340B from slightly different angles (similar, but different . . . I may need to cover this in a separate article). Currently listening to Bill von Oehsen and he just mentioned the need for attending one of these educational sessions annually. The reason I bring this up is that I do not want anyone to substitute formal education by using our Blog or reading the Apexus or SNHPA website for their sole means of 340B education. Okay, on to the highlights!

Legislative: The biggest update is the increase in funding for OPA (well, technically HRSA for 340B, but that means OPA). This brings OPA's budget to $10.2 million, which is an increase of $5.76 million. Commander Pedley has to present to congress in March on how this money will be used for compliance and integrity. We did hear that some of this will be used for manufacturer auditing as well.

What is on the Horizon for 2014 (We know about most of these, but it is a fun list):
-Orphan Law suit (regarding the recent clarification that stated if the Orphan Drug was used for a non-Orphan indication, then it could be purchased at 340B).
-AMP Regulation due out in May: Defines AMP and may impact Medicaid Rebates.
-1st Manufacturer HRSA audit.
-And we can't forget, 340B Regulations to be proposed this summer.

The "Real" Numbers on Contract Pharmacy:
-Percentage of Covered Entities with contract pharmacy = 18%
-Covered Entities using Contract Pharmacy that have less than 5 contract pharmacies = 75%
From my personal experience, we also have many contract pharmacies listed that are not being used. They were either set-up and not started OR a large retail chain added many stores and then looks to see which stores have volume (and of course have not removed the extraneous stores yet).

Contract Pharmacy Diversion: I did hear for the first time that besides a covered entity being removed from the program AND potential payback of all 340B savings, a contract pharmacy diversion could result in the contract pharmacy being removed for the covered entity, but the covered entity could stay enrolled. That was new to me and makes sense.

Medicaid (Correction): During some FAQs, someone kept pushing for a response as to if Medicaid Rebates were Fee-for-service (State) Medicaid only or Managed Care Medicaid too. Initially the response was it depends (which I feel is the right answer). They kept pushing and eventually got a Yes, State Medicaid only. I want to clarify, this is technically correct. However, in some states, State Medicaid picks up the info from Managed Care Medicaid and seeks a rebate. The reason the answer is correct is that it is State Medicaid only that can seek the rebate (that too could change of course); however, they are collecting Managed Care Medicaid claims for rebates as well. Take home message: You need to ask (yes, that means call… on the phone) each Managed Care Medicaid and State Medicaid what they are doing regarding rebates, and even if they say no initially (that is regarding the Managed Care portion), make sure you are notified if they change their practice.

Apexus: Big Chris (If you haven't met Chris Hatwig from Apexus, he's like 8'6″ or something, and I usually only make jokes with him if I don't have to see him for months), shared a lot of tools on the Apexus website. A) if you are a CE and not registered with Apexus, then register! It is one of those no brainers (free and provides a lot of benefit) in life that rarely exist. B) The one item I want GPO Prohibition sites to go look for is the "Minimize WAC Exposure Tool" that provides 10 things you can do to minimize your WAC impact. In my recent role as a DSH pharmacy director, the WAC impact was about $70K/month and in May it was $100K (we turned on triple split with WAC on in April 2013 to meet the first deadline).

Okay, I don't want to get too long. We'll cover day 2 next (still going right now as I write this, good discussion on self-reporting). The picture above is Rich B, Rich I, and me at our Turnkey Pharmacy Solutions booth. Thank you to everyone who stopped by, we have had an awesome time meeting people from all over the country. There are a lot of people trying to do the right thing, and if we can help you with compliance or just to answer some quick questions, we are here for you. -Aloha, and I hope I see many of you at a 340B University or the July 340B Coalition Conference in Washington DC.